Oleg LUKIANOV (Russia)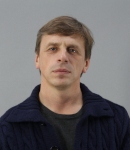 PhD, Head of the Department of Personality Psychology, Tomsk State University.
Deputy Director for scientific and methodological work of the Siberian Institute of Existential and Phenomenological Psychology.
Deputy Editor-in-Chief of the Siberian Psychological Journal, author of Mass Online Courses (MOOCs) Genius. Giftedness. Mediocrity, Psychology of Vocation, Psychology of Recognition and Self-Employment.
Psychotherapist, graduate of the Institute of Existential and Humanistic Psychology (Birštonas. Lithuania).
Full member of the East European Association for Existential Therapy.
The author of the concept of transtemporal psychology.
Author of a large number of books and articles on personality psychology and existential psychology.