Olga KUZNETSOVA (Russia)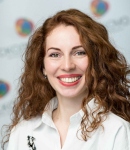 Clinical psychologist, Business therapist, Transactional Analysis therapist, Executive coach, Entrepreneur.
Author of the first-of-its-kind professional training program in Russia for nutrition specialists and eating psychology consultants called "Weight correction and eating psychology consultant. Nutritionist", which is ranked among the top 3 training courses at Moscow Institute of Psychoanalysis. Olga participates in the openings and organization of centers of aesthetic medicine, helps creating training programs in nutrition psychology in cooperation with leading Russian and European clinics, fitness centers, and businesses.
Since 2009, she's been providing psychological counseling and support to key employees, and has been engaged in joint activities with companies operating in such sectors as services, private medicine, and banking. Olga helps people succeed in many aspects of their personal and professional lives guiding the development of their emotional intelligence, advising on such matters as effective communication, personal growth, and emotional obstacles to professional growth, helping executives in the development of management and leadership skills, as well as in building effective partnerships, and development of a personal brand.
She is an active member of ЕАС (European Association for Counseling), ЕАТА (European Association for Transactional Analysis), and SITA (Saint Petersburg Institute for Transactional Analysis).
Olga is an active participant in discussions and roundtables, invited speaker at conferences and forums for business and health psychology.
In 2006, she graduated from the Faculty of Psychology with specialization in Clinical Psychology and underwent the professional training course to become a certified Public Relations (PR) and Advertising Manager. Since 2009, she's been undergoing a professional training at the European Association for Transactional Analysis in Transactional Analysis psychotherapy, counseling and coaching, and currently studies Executive Coaching at the Moscow School of Management SKOLKOVO.