Svetlana KRIVTSOVA (Russia)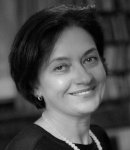 PhD, has twenty years of working experience as an assistant professor of the Department of Personality Psychology, Psychology Department, Moscow State University (Lomonosov). In 2005 she received a diploma in psychotherapy. She is working as a trainer and supervisor in GLE-international Institute (Vienna). She has been conducting educational programs for the training of existential psychotherapists in Moscow, London, Riga. For many years she headed the Russian branch of GLE-international.
For more than fifteen years she led the Center for Practical Psychology of Education in collaboration with the Russian Ministry of Education, being a member of several expert councils at this ministry.
Known as the author of books and articles on the existential approach in the education and upbringing of children.
She is a practicing psychotherapist.