Tatiana AGIBALOVA (Russia)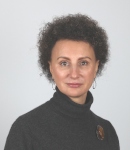 Moscow, Russia MD, PhD, Psychiatrist, Addictionist, Psychotherapist, Principal Researcher, Moscow Research and Practical Centre for Narcology of the Department of Public Health; Professor of the Psychotherapy and Sexology Department of the Russian Medical Academy of Continuing Professional Education; Professor of Psychiatry, Psychotherapy and Psychosomatic Pathology Department, the Faculty of Continuing Medical Education, Medical Institute, People's Friendship University of Russia. Certified Transactional Analyst (psychotherapy).
Tatiana Agibalova provides training, supervision and personal therapy to psychotherapists and counselling psychologists. She is a practicing psychotherapist. Tatiana received a Badge for Exellence in Healthcare. She is an editorial board member of the Narcology Journal; member of the European Association for Transactional Analysis. Authored over 250 publications.