Vladimir NIKITIN (Russia)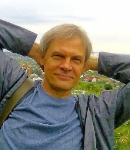 Doctor in philosophy (ontology and gnoseology sciences), Ph.D in psychology, professor of Practical Psychology and Arts Therapy Department (Moscow Social Pedagogical Institute), head of "Arts-therapy in psychological consulting" magistrates.
He is a founding member and president of East-European Association of Arts Therapy in Sofia (2011), chef editor of scientific and practical almanac, "Art in psychology".
Author of 10 books on art and body therapy, for example, "Image and consciousness in arts therapy", a joint project with Prof. Peter Tzanev (Sofia, 2018), "Arts therapy" (Moscow, 2014), "Therapy by arts", an international project (Sofia, 2012), "Ontology of bodily: sense, paradox, absurd" (Moscow, 2006), "Plastic drama" (Moscow, 2003), "Psychology of bodily consciousness" (Moscow, 1998).
In 2000 he founded "Postmoving", psychological theatre.