Vladimir VINOKUROV (Russia)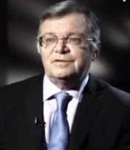 Associate Prof. Dr., the Philosophy Faculty of Lomonosov Moscow State University, Russia. Study of religion, philosophy, psychotherapy. International Award in the field of social sciences and arts "SGEM" (Vienna, Austria, 2019) for the best scientific report.
Honorary Lecturer of Moscow State University.
Full member of the All-Russian Professional Psychotherapeutic League.
Vladimir V. Vinokurov — the study of religion, psychology. Born in Moscow 28.12.1957. 1980 graduated from the Moscow State University. In 1986 he defended his thesis «Science and Religion in Catholic philosophy". Since 1985 he has been working at the Philosophy Faculty of Moscow State University. Lecture courses: "Phenomenology of Religion", "Science and religion". More than 10 years of teaching the course "History and theory of Religion" at the Faculty of Psychology, since 2015 — a course "Psychology of Religion".
Published 3 books, textbooks, more than 40 articles. Speaker at the World Congress for Psychotherapy (2017, Paris), World Congress of Philosophy (2018, Beijing), European Congress of Psychology (2019, Moscow), International Congress on Logic, Methodology and Philosophy of Science (2019, Prague).
International award (SGEM — 2019, Vena) for the report: Psychology of love in St. Augustine's "Confessions" and the hermeneutics of L. Wittgenstein's functions "F(F)".
In 2016 he published a series of articles devoted to functional analysis and hermeneutics visions: "Hermeneutics fragments «Visions» K. Jung: image black lake" (2016); "Psychology and mysticism in «Septem Sermones ad Mortuos» C. Jung" (2017); »Functional typology and interpretation of the image of Theodore Abt" (2017).
Major works: Vinokurov V., Vorontsova M. Alchemy in the contemporary world — magnum ignotum. // Periodico Tche Quimica, 2019, V. 16, № 31, p. 528-539; Vinokurov V., Vorontsova M. Antinomy and paradox in st. Augustine's "Confessions" and the "shimmering concept" of L. Wittgenstein. // Journal of science and arts. 2019, V. 1. № 1, p. 26-34.
Official page: istina.msu.ru/Vinokurov V.V.