Edward CHAN (Malaysia)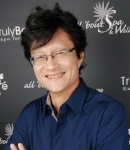 Dr., Board Member and Fellow of the World Council for Psychotherapy
President and Fellow of the Malaysian Association of Psychotherapy (www.MalaysianPsychotherapy.net)
President of the Malaysian Employees Assistance Professionals Association (www.EAPMalaysia.com)
Principal Consultant Psychologist of the International Psychology Centre (www.Psychology.com.my; )
Clinical Director of WellLab, Centre for Advanced Diagnostic Laboratory Testing (www.MalaysiaLaboratory.com)
President and Fellow of the Malaysian Cognitive Behavioral Therapy Association (www.CBTMalaysia.net)
Head of the Psychotherapy & Nutritional Therapy Chapter of the Malaysian Society for Complementary Medicine
Adjunct Professor of the International Psychology & Complementary Medicine University (www.IPCMU.com)
Chief Editor of the International Journal of Psychotherapy, Counseling & Psychiatry: Theories, Researches & Clinical Practices (www.IJPCP.com)
Editorial Board Member of the Journal for ReAttach Therapy and Developmental Diversities
Chair of the 1st Asia Schema Therapy Conference 2020 (www.SchemaTherapyAsia.com)
Chair of the 1st Asia Employees Assistance Professionals Conference 2020 (www.EAPMalaysia.com)
Chair of the 4th Psychotherapy, Counseling & Psychiatry Conference 2020 (www.ISPCP-TRCP.org)
Invited speaker at the 37th European Psychiatrists Conference 2019
Invited speaker at the 2nd World Mental Health Summit 2018
Ph.D in Psychology; B.Sc. Hons in Psychology; M.Sc. in Learning; Master in Nutritional Medicine; .
Recent publications included:
Hypno Cognitive Behavioural Therapy for Children with Anxiety Disorder in Handbook of Cognitive Behavioural Therapy in Asia; Research & Clinical Practice
Positive Psychology Couple Schema Therapy in Journal for ReAttachTherapy & Developmental Diversities 2020 Jan 22; 2(2).
Positive Psychology Couple Therapy in International Journal of Psychiatry; June 2018.