The major event of the decade in the field of psychotherapy and psychology!
The IX World Congress for Psychotherapy will be held in full scale (pre-congress events, congress sessions, workshops and training seminars of Psyfest, congress ball of psychotherapists, post-congress programs) in previously announced dates (26-29 June, 2020 — main program; June 24 — July 17, 2020 — pre — and post-congress events).
Congress participants, who will not be able to attend the congress personally, will be given vast opportunities of full online participation in congress events (including delivering presentations and workshops).
Organizing committee
of the IX World Congress for Psychotherapy 2020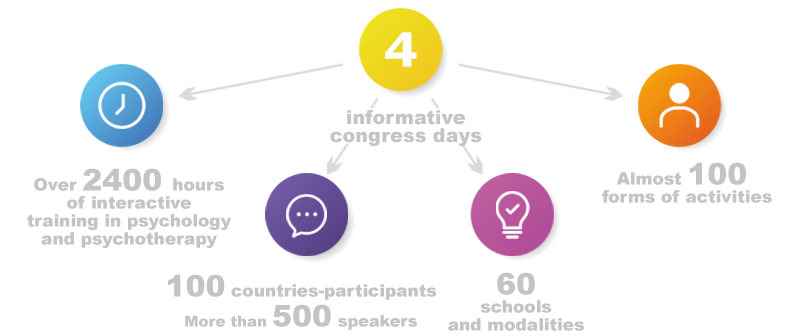 Pre-congress
24-25.06.2020
Post-congress
30.06 — 17.07.2020
Psyfest
Trainings, Lectures

Master classes, Exhibitions

Creative Workshops

Supervisions, Groups
1
2
3
Exhibition

Excursions

Round dances

Ball
Organizers:
World Council for Psychotherapy
All-Russian Professional Psychotherapeutic League (PPL Russia)