Zelda KNIGHT (South Africa)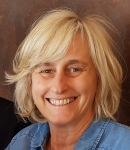 Prof. Dr. Zelda G Knight (Ph.D) is the Vice President for the WCP (African Chapter).
Zelda Knight is a graduate of Rhodes University, Grahamstown, South Africa, where she obtained my undergraduate and post-graduate degrees in Psychology, including a PhD degree in 1998. She is a Professor of Psychology at the Department of Psychology, University of Johannesburg, South Africa. She is also a registered Psychologist and licensed to practice as a psychotherapist. She has been an academic for more than two decades, teaching, supervising and conducting research in the area of relational psychoanalysis, contemporary psychoanalytic theory and Self Psychology. She also teaches Group Therapy and Existential Psychotherapy.
Zelda Knight has published in numerous peer-reviewed journals as well as written several chapters in academic books, and has recently written on the subject of Race in psychoanalysis, The psychology of prejudice, and The real relationship in psychoanalytic psychotherapy supervision. She is working on linking The myth of Sisyphus to Nietzsche's notion of the Eternal Return of the same in an exploration of transference, and The links between psychoanalysis, phenomenology and the psychobiography.
Zelda's research has been presented at more than 30 international conferences and she has been an invited keynote address speaker at several international psychotherapy conferences. Zelda is actively involved in the development of psychotherapy in Africa, is the elected Vice-President of the World Council for Psychotherapy (WCP) (African Chapter).